Pixecom is a leading Business & IT Solutions provider in Sri Lanka offering customers the best option in Software Solutions and accessories with an innovative solution portfolio and an unparalleled after-sales service. Advanced into a loving team of faithful people. Our team has general knowledge in management, and web developer. We deliver IT referring, technology and resources.
In any business the people behind a company are as important as the company itself, therefore teams are individually achieved, thus safeguarding that all of the team members are equally interested to provide general and capable solutions for clients. Our human resource policy is simple, we only hire best of the best. Our Team members target self-growth, finding interesting opportunities and exposure to State-of-the-art technology.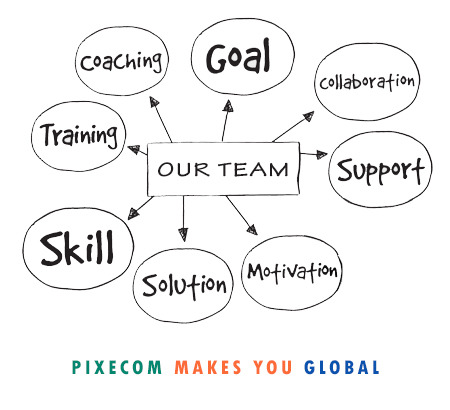 Our Team Value
Focus
Our customers are the most important person. They are the resource upon which the success of the business depends. At Pixecom, we estimate and understand our client's developing needs and work in close proximity to make their businesses more cost-effective.
Goal
Our goal is to provide extraordinary solutions to clients' extraordinary requirements. Our team of specialists are dedicated for your needs and requirements.
Satisfaction
Satisfaction is highly important so we are inspired for technical work, motivated by a free, open and cooperative company philosophy that emphases on client satisfaction.